EW0005
Seismic Reflection/Refraction
Seismic:Navigation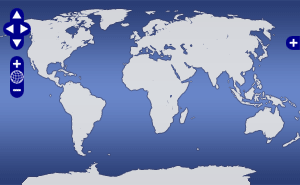 Map View
Processed multichannel seismic data off the western coast of Nicaragua and Costa Rica, acquired during R/V Maurice Ewing expedition EW0005 (2000)
Part of the Nicaragua Subduction Factory project, this survey collected over 2500km of seismic data and approximately 580km of OBH refraction data in order to document variations in the subducting Cocos plate structure and stratigraphy and the effects of these variations on the upper (Caribbean) plate. Funding was provided by NSF grants OCE-9905355 and OCE-9909859.
McIntosh, Kirk
Investigator
UTIG
Platform
Maurice Ewing (Array)
LDEO
Quality
The data have been processed/modified to a level beyond that of basic quality control (e.g. final processed sonar data, photo-mosaics).
---
Data Files
---
References
---
Acquisition Information
---
Documents
---
Related Data Sets
---
ISO/XML Metadata
---
Download Data Set Metadata Report
---
XML
MGDS formatted data set xml report containing verbose file and data set level metadata
ISO XML
ISO 19115-compliant xml report containing general data set level metadata
Related Acquisition Information
---
---
Seismic Acquisition Parameters
---
EW0005_ACQ001 (Lines: Sequences 06-07, 24-34, 36-38)
Source Information
AirGun (BOLT:1500C)
Source Number: 20
Volume (cu in): 6817
Pressure (psi): 2000
Shot Interval (m): 50
Distance to Near Channel (m): 188
Distance to Antenna (m): 56
Number of Arrays: 1
Receiver Information
Hydrophone:Streamer
Number of Cables: 1
Channels Per Cable: 240
Channels Recorded: 240
Group Spacing (m): 25
Cable Length (m): 6000
Cable Depth (m): 10
Near Channel Number: 240
Used Compass Birds: true
Nav System
Trimble Tasman Y-code GPS
WGS84
Acquisition System
Digital
Name: Syntrak 480
Sample Interval (msec): 4
Details
Record Length was 4 seconds for sequences 02, 03, 05-12, 14, 15, 16(SP 1-1425), 17-26, 27(SP 1-3003), 29(SP 953-2994), 30, 31(SP 2097-3039), 32, 33(SP 1235-2667), 34-38
---
Record Length was 5 seconds for sequences 01, 04, 13, 16(SP 1426-1447), 27(SP 3005-3688), 28, 29(SP 1-946), 31(SP 2097-3039), 33(SP 1-1225)
EW0005_ACQ002 (Lines: Sequences 02-05, 08-12, 14-23)
Source Information
AirGun (BOLT:1500C)
Source Number: 20
Volume (cu in): 6817
Pressure (psi): 2000
Shot Interval (sec): 20
Distance to Near Channel (m): 188
Distance to Antenna (m): 56
Number of Arrays: 1
Receiver Information
Hydrophone:Streamer
Number of Cables: 1
Channels Per Cable: 240
Channels Recorded: 240
Group Spacing (m): 25
Cable Length (m): 6000
Cable Depth (m): 10
Near Channel Number: 240
Used Compass Birds: true
Nav System
Trimble Tasman Y-code GPS
WGS84
Acquisition System
Digital
Name: Syntrak 480
Sample Interval (msec): 4
Details
Shot Interval of 20 seconds is about 50 meters
---
Record Length was 4 seconds for sequences 02, 03, 05-12, 14, 15, 16(SP 1-1425), 17-26, 27(SP 1-3003), 29(SP 953-2994), 30, 31(SP 2097-3039), 32, 33(SP 1235-2667), 34-38
---
Record Length was 5 seconds for sequences 01, 04, 13, 16(SP 1426-1447), 27(SP 3005-3688), 28, 29(SP 1-946), 31(SP 2097-3039), 33(SP 1-1225)
EW0005_ACQ003 (Lines: Sequences 01, 13)
Source Information
AirGun (BOLT:1500C)
Source Number: 20
Volume (cu in): 6817
Pressure (psi): 2000
Shot Interval (sec): 60
Distance to Near Channel (m): 188
Distance to Antenna (m): 56
Number of Arrays: 1
Receiver Information
Hydrophone:Streamer
Number of Cables: 1
Channels Per Cable: 240
Channels Recorded: 240
Group Spacing (m): 25
Cable Length (m): 6000
Cable Depth (m): 10
Near Channel Number: 240
Used Compass Birds: true
Nav System
Trimble Tasman Y-code GPS
WGS84
Acquisition System
Digital
Name: Syntrak 480
Sample Interval (msec): 4
Record Length (sec): 5
Details
Shot Interval of 60 seconds is about 125 meters
EW0005_ACQ004 (Lines: Sequence 35)
Source Information
AirGun (BOLT:1500C)
Source Number: 20
Volume (cu in): 6817
Pressure (psi): 2000
Shot Interval (m): 125
Distance to Near Channel (m): 188
Distance to Antenna (m): 56
Number of Arrays: 1
Receiver Information
Hydrophone:Streamer
Number of Cables: 1
Channels Per Cable: 240
Channels Recorded: 240
Group Spacing (m): 25
Cable Length (m): 6000
Cable Depth (m): 10
Near Channel Number: 240
Used Compass Birds: true
Nav System
Trimble Tasman Y-code GPS
WGS84
Acquisition System
Digital
Name: Syntrak 480
Sample Interval (msec): 4
Record Length (sec): 4
edu.utexas.ig:ew0005_acq001 (Lines: )
Receiver Information
Hydrophone:Streamer
Used Active Tail Buoy: false
Used Compass Birds: false
Nav System
Y-Code; Tasmon GPS receiver
WGS84
Acquisition System
Digital
Name: Syntrack 480-24
Details
Receiver Type: Hydrophone_Streamer
---
Source Type: SeismicSource_Gun_Air
---
Acquisition System Name: Syntrack 480-24
---
Acquisition System Type: digital
---
Seismic Nav System: Y-Code; Tasmon GPS receiver
---
Survey Datum: WGS84
---
Source to Near Channel (m): 188
---
Antenna to Source (m): 56
---
Number of Channels Recorded: 240
---
Channel Length (m): 25
---
Cable Receiver Depth (m): 80
---
Source Volume (cubicInches): 6817
---
Source Pressure (bars): 138
---
Source Number: 20
---
Source Depth (m): 6.5
---
Shot Control: distance
---
Shot Interval (s or m): 50
---
Compass Birds: no
---
Tail Buoy Positioning: no
---
Recording Delay: no
---
Data Set Documents
---
---
---
---
---
---
---
---
---
---
---
---
EW0005 Documents
---
---
---
Related Data Sets
Sort by:
---

Seismic:Reflection:MCS
Processed multichannel seismic data off the western coast of Nicaragua and Costa Rica, acquired during R/V Maurice Ewing expedition EW0005 (2000)

Seismic:Reflection:MCS
Processed multichannel seismic data off the western coast of Nicaragua and Costa Rica, acquired during R/V Maurice Ewing expedition EW0005 (2000)
Expand