MGL0812
Seismic Reflection/Refraction
Seismic:Reflection:MCS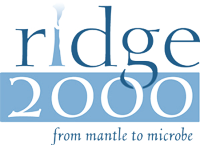 Processed 3-D multi-channel seismic data volume for the East Pacific Rise 9°42'-9°57'N from the MGL0812 survey (classical time processing by H. Carton)
This data set is a time-processed 3-D multi-channel seismic data volume for the East Pacific Rise 9°42'-9°57'N. It is in SEG-Y format and extends for about 27.5 km (along-axis) by 18 km (across-axis) and from 0 to 6.5 seconds two-way travel time on the vertical axis. Seismic reflection events imaged in 3-D by this volume are the seafloor, the axial magma lens, off-axis magma lenses, and the oceanic Moho. The volume was built from multi-channel seismic lines acquired across the East Pacific Rise crest between 9°42'-9°57'N during the MGL0812 seismic survey on R/V Langseth in 2008 (chief scientists: J.C. Mutter, S.M. Carbotte, J.P. Canales, M.R. Nedimovic). A time processing sequence was applied, which includes 3-D geometry definition, spherical divergence correction, filtering, resampling to 4 ms, trace editing, flexible binning, preparation of a 3-D stacking velocity model (for seafloor, magma lens events and Moho; this processing sequence does not include the layer 2A event), normal move-out correction, stacking, post-stack signal enhancement (noise attenuation, predictive deconvolution), cross-line interpolation (from 6.25 x 37.5m bin size to 6.25 x 18.75m bin size), muting of first seafloor multiple, and 3-D Kirchhoff post-stack time migration (see separate file for processing details). Funding was provided by NSF awards OCE03-27872 and OCE03-27885.
Carton, Helene
Investigator
LDEO
Carbotte, Suzanne
Investigator
LDEO
Mutter, John
Investigator
LDEO
Canales, JuanPablo
Investigator
WHOI
Nedimovic, Mladen
Investigator
Dalhousie
Platform
Marcus G. Langseth (Array)
LDEO
Quality
The data have been processed/modified to a level beyond that of basic quality control (e.g. final processed sonar data, photo-mosaics).
---
Data Files
---
Acquisition Information
---
Documents
---
Data Citation Information
---
---
ISO/XML Metadata
---
Expand