EW9203
Seismic Reflection/Refraction
Seismic:Reflection:MCS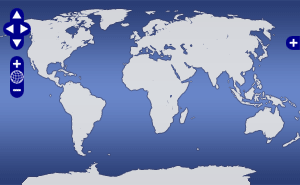 Map View
Reprocessed multichannel seismic data in the Woodlark Basin and D'Entrecasteaux Islands region, acquired in 1992 during the R/V Marcus Ewing survey EW9203
These data were reprocessed in order to provide new constraints on the uplift and exhumation of Goodenough and Fergusson islands. This work was supported by the NSF Continental Dynamics program (EAR-0708105).
Platform
Maurice Ewing (Array)
LDEO
Quality
The data have been processed/modified to a level beyond that of basic quality control (e.g. final processed sonar data, photo-mosaics).
---
Data Files
---
References
---
Acquisition Information
---
Documents
---
Related Data Sets
---
ISO/XML Metadata
---
Download Data Set Metadata Report
---
XML
MGDS formatted data set xml report containing verbose file and data set level metadata
ISO XML
ISO 19115-compliant xml report containing general data set level metadata
Related Acquisition Information
---
---
Seismic Acquisition Parameters
---
EW9203_ACQ001 (Lines: 1170-1179)
Source Information
AirGun (BOLT:1500C)
Source Number: 20
Volume (cu in): 8385
Pressure (psi): 2000
Shot Interval (sec): 20
Distance to Near Channel (m): 250
Distance to Antenna (m): 95
Number of Arrays: 1
Receiver Information
Hydrophone:Streamer
Number of Cables: 1
Channels Per Cable: 120
Channels Recorded: 120
Group Spacing (m): 12.5
Near Channel Number: 240
Used Active Tail Buoy: false
Used Compass Birds: false
Acquisition System
Digital
Name: DSS240
Sample Interval (msec): 4
Record Length (sec): 15
EW9203_ACQ002 (Lines: 1180)
Source Information
AirGun (BOLT:1500C)
Source Number: 20
Volume (cu in): 8385
Pressure (psi): 2000
Shot Interval (sec): 20
Distance to Near Channel (m): 250
Distance to Antenna (m): 95
Number of Arrays: 1
Receiver Information
Hydrophone:Streamer
Number of Cables: 1
Channels Per Cable: 200
Channels Recorded: 200
Group Spacing (m): 12.5
Near Channel Number: 240
Used Active Tail Buoy: false
Used Compass Birds: false
Acquisition System
Digital
Name: DSS240
Sample Interval (msec): 4
Record Length (sec): 14
EW9203_ACQ003 (Lines: 1181-1183)
Source Information
AirGun (BOLT:1500C)
Source Number: 20
Volume (cu in): 8385
Pressure (psi): 2000
Shot Interval (sec): 20
Distance to Near Channel (m): 250
Distance to Antenna (m): 95
Number of Arrays: 1
Receiver Information
Hydrophone:Streamer
Number of Cables: 1
Channels Per Cable: 220
Channels Recorded: 220
Group Spacing (m): 12.5
Near Channel Number: 240
Used Active Tail Buoy: false
Used Compass Birds: false
Acquisition System
Digital
Name: DSS240
Sample Interval (msec): 4
Record Length (sec): 14
EW9203_ACQ004 (Lines: 1184-1231)
Source Information
AirGun (BOLT:1500C)
Source Number: 20
Volume (cu in): 8385
Pressure (psi): 2000
Shot Interval (sec): 20
Distance to Near Channel (m): 250
Distance to Antenna (m): 95
Number of Arrays: 1
Receiver Information
Hydrophone:Streamer
Number of Cables: 1
Channels Per Cable: 220
Channels Recorded: 220
Group Spacing (m): 12.5
Near Channel Number: 240
Used Active Tail Buoy: false
Used Compass Birds: false
Acquisition System
Digital
Name: DSS240
Sample Interval (msec): 4
Record Length (sec): 15
EW9203_ACQ005 (Lines: 1167-1169)
Source Information
AirGun (BOLT:1500C)
Source Number: 20
Volume (cu in): 8385
Pressure (psi): 2000
Shot Interval (sec): 20
Distance to Near Channel (m): 250
Distance to Antenna (m): 95
Number of Arrays: 1
Receiver Information
Hydrophone:Streamer
Number of Cables: 1
Channels Per Cable: 240
Channels Recorded: 240
Group Spacing (m): 12.5
Near Channel Number: 240
Used Active Tail Buoy: false
Used Compass Birds: false
Acquisition System
Digital
Name: DSS240
Sample Interval (msec): 4
Record Length (sec): 14
---
Data Set Documents
---
---
---
---
EW9203 Documents
---
---
---
---
Related Data Sets
Sort by:
---

Seismic:Navigation
Reprocessed multichannel seismic data in the Woodlark Basin and D'Entrecasteaux Islands region, acquired in 1992 during the R/V Marcus Ewing survey EW9203

Seismic:Reflection:MCS
Reprocessed multichannel seismic data in the Woodlark Basin and D'Entrecasteaux Islands region, acquired in 1992 during the R/V Marcus Ewing survey EW9203
Expand