Academic Seismic Portal: Project Information
Access for education and research
About the Academic Seismic Portal at LDEO
The MGDS Academic Seismic Portal at Lamont-Doherty Earth Observatory (ASP-LDEO), now part of the IEDA Data Facility, was initiated in 2003 to preserve and provide open access to multi-channel seismic (MCS) and single channel seismic (SCS) field data collected for academic research supported by the US National Science Foundation. Multi-channel data are primarily from the marine seismic vessels operated by Lamont-Doherty Earth Observatory of Columbia University. Modern single channel seismic data from other vessels including the R/V Palmer and USCG Healy, as well as data from portable seismic systems, are also served. The data center is operated in partnership with the Academic Seismic Portal at UTIG, which focuses primarily on processed multi-channel seismic data, but also serves field data from programs conducted by UTIG investigators. The development of the Academic Seismic Portal has focused on the need to recover high value MCS data from older surveys as well as to establish sustainable procedures for preservation of data from modern programs. During the final two years of R/V Ewing operations, procedures were established for routine transfer of MCS data along with navigation and acquisition parameters, and other needed documentation to the ASP. Transfer of seismic data and acquisition information is now routine for the National Marine Seismic Facility, the R/V Marcus G. Langseth, which began science operations in February 2008. Data are documented and incorporated into the data system with full access restrictions protecting the scientists' rights to exclusive access during the proprietary hold period. Submission of data to the ASP helps ensure that NSF requirements for data sharing as outlined in the NSF OCE Data Policy are satisfied.
Available Data
The ASP-LDEO now includes field data totaling over 29,500 files and 35 TB from more than 140 multi-channel seismic surveys, with additional surveys added throughout the year. For each cruise, seismic data are served in segy or segd format, along with shot and ancillary navigation information, acquisition parameters, seismic line logs, and cruise reports. Any additional data collected during the program (e.g. multibeam bathymetry, trackline gravity and magnetics data) are also made available for download. Legacy analog single channel seismic records from over 400 Eltanin, Vema and Conrad legs from the 1960's and 70's have been scanned and georeferenced and can also be accessed through GeoMapApp, a map-based geobrowser which provides access to a broad suite of marine geoscience data. Processed MCS data sets from more than 50 programs have been recovered from tape and made available through the UTIG data center and the seismic viewer in GeoMapApp.
Data Access
Data access is provided through a text based search interface, which permits users to search for data via data type, geographic region, cruise ID, cruise dates or personnel as well as by specific acquisition parameters including source volume, number of channels, and source type. Seismic data can also be accessed through GeoMapApp. A dedicated interface for exploring MCS data provides access to publicly available processed data sets at the UTIG center, with direct links to UTIG to download segy data. For each survey, users may view available processed sections, browse up to two seismic profiles at once with interactivity between the map view and seismic section. With this interface users can quickly view and compare seismic sections from many areas as well as plot additional data sets to explore relationships between subsurface structure and other parameters.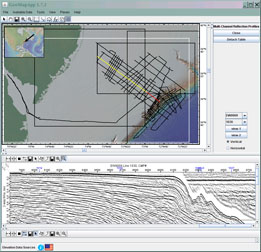 Example of Multi-Channel Seismic Data displayed in GeoMapApp. The portion of the line displayed in the bottom of the image is identified by a red segment along the track line.
Data Policy
The National Science Foundation Division of Ocean Sciences Data and Sample Policy.
Project Documents
NSF Award Abstract #0826282: Seismic Reflection Data Management System for Marine Geosciences II
Contact Details
Academic Seismic Portal at UTIG:
Jackson School of Geosciences
Principal Investigator: Tom Shipley
Database design, maintenance and web master: Lisa Gahagan
Systems Analyst, user interfaces and design: Kevin Johnson
Academic Seismic Portal at LDEO:
Lamont-Doherty Earth Observatory
Principal Investigator: Suzanne Carbotte
Principal Archivist and Seismic Specialist: Joyce Alsop
Data Manager: Rose Anne Weissel
Database design and maintenance: Suzanne O'Hara