MARGINS Data Portal: Project Documents
About the MARGINS Data Portal
The MARGINS Data Portal was established in fall 2003 in response to a program call for a dedicated data system to facilitate open and timely exchange of data in support of the interdisciplinary science goals of the program. The Data Portal has been built with the primary goal of providing full cataloging, open access, and long-term preservation of data collected during MARGINS programs. The backbone of the system is an expedition metadata catalog, which provides information on field programs (who, what, when and where), inventories of sensor data and samples, relevant metadata and the links to associated data files which reside either within the Data Portal or at distributed repositories. The system is designed to leverage all relevant existing data resources and provides a framework for a broader distributed data system.
Available Data
Information on rock sampling, seismometer and geodetic studies from land-based MARGINS funded programs is available through the Data Portal. For marine expeditions, cruise and data acquisition information, navigation and the majority of shipboard field data from MARGINS-funded cruises as well as a number of related programs are served. Data submitted from these programs include: bathymetry, sidescan sonar, seismic reflection data, gravity, magnetics, water column XBT, CTD, ADCP, and sound velocity data, heat flow, along with rock, fluid, and sediment sampling information. Regional data sets contributed by foreign collaborators are also available.

To find MARGINS data, please visit the search page, here.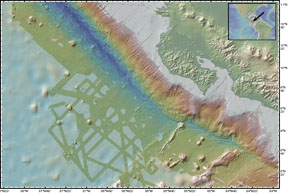 Central America bathymetric compilation grid from Weinrebe et al. accessible through the MARGINS portal and through GeoMapApp.
Data Access
To accommodate the different needs of scientists for accessing data, two data access tools have been developed; a text-based search tool (browser based) for researchers wanting, for example, to find specific data sets of interest or all data from a cruise or region; and a richly-functioned graphical application, GeoMapApp, to visualize and explore data holdings in a map interface. For each Focus Site, users can, for example, visualize available sonar datasets (multibeam, sidescan), plot focal mechanism solutions from the Global CMT catalog, access sediment sample geochemistry from SedDB, view data from deep sea drilling holes, and plot locations of samples and stations from MARGINS-funded programs. The Data Portal is adopting standards-compliant web services to serve data holdings in order to provide users with greater flexibility to use the data visualization and analysis tool of their choice (e.g. ArcGIS, NASA World Wind, Google Earth). The MARGINS Data Portal has been developed in parallel with the Ridge 2000 Data Portal, as part of the Marine Geoscience Data System. Tools and services for accessing data are common across the system.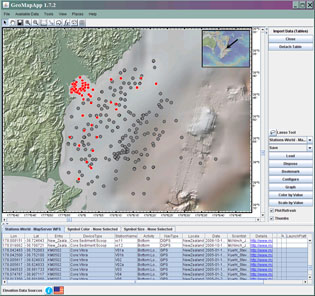 Example from GeoMapApp showing locations of samples collected at the MARGINS Waipaoa Focus Site off the north island of New Zealand. Vibra core samples collected at this site during MARGINS-funded expeditions are identified with red dots.
Data Policy
MARGINS Data Portal Documents
MARGINS Data Portal Reports & Papers