Marine-Geo Digital Library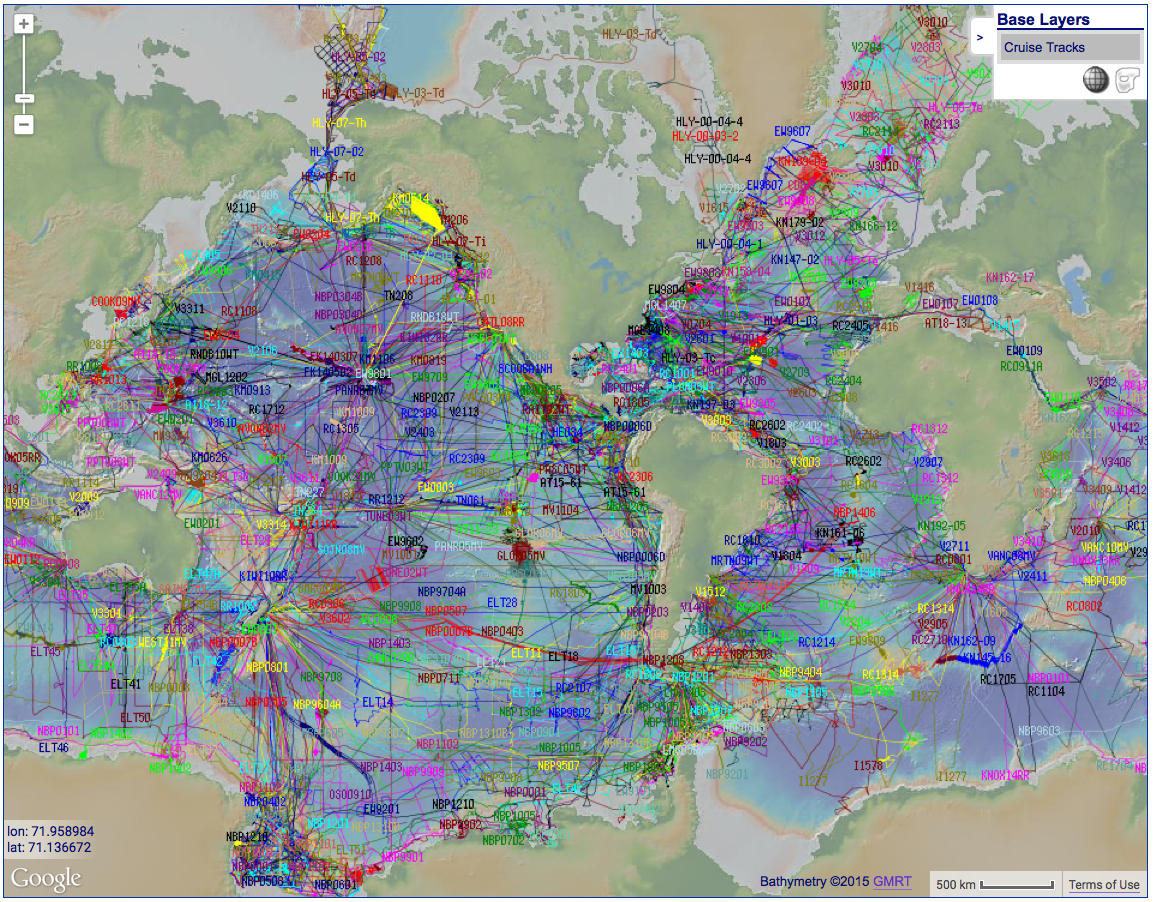 The Marine-Geo Digital Library is the digital data repository and metadata catalog of the MGDS. Its data resources support scientists working broadly on solid earth science problems ranging from mid-ocean ridge, subduction zone and hotspot processes, to geohazards, continental margin evolution, sediment transport at glaciated and unglaciated margins and interdisciplinary science in the Southern Ocean. The Marine-Geo Digital Library hosts primarily marine geoscience data from the seafloor and subseafloor acquired with ships, towed platforms and submersibles and includes both derived data products and supporting field data. Primary data types include bathymetry, sidescan sonar, near-bottom photos, and active source seismic data, as well as a diverse array of other long-tail sensor data (e.g. in-situ temperature and chemical probes, optical backscatter). A broad suite of processed data and interpreted data products can be accommodated, and current holdings include gridded compilations of geophysical data, maps, microseismicity catalogs, interpretations, photomosaics, animations and visualizations. Other long-tail data that complement marine geoscience data types and lack an alternate disciplinary repository are also curated as part of the Marine-Geo Digital Library.
Community Data Collections: The Marine-Geo Digital Library includes data collections produced by several interdisciplinary NSF-funded research initiatives including the GeoPRISMS, MARGINS and Ridge 2000 Programs. Comprehensive data collections are hosted for active source multi-, single-channel and chirp seismic data (ASP@LDEO), and for Polar Programs supported R/V Palmer and Gould (ASODS). New collections of Deep Submergence and Coastal data is currently being assembled.
Data Repository Services: Data contributed to the Marine-Geo Digital Library are made freely available to the public, and can be discovered and accessed through a variety of Tools and Services including a map-based search tool, a keyword search tool, and a variety of map-based data exploration tools (GeoMapApp, IEDA Data Browser, Google Maps interfaces). Standards-compliant OGC and KML web services enable programmatic access to data holdings through other systems and interfaces.
Data Submission: The MGDS encourages submissions of new marine geoscience data sets for inclusion in the Marine-Geo Digital Library, in particular processed and interpreted data products supporting publications and field data that has not been archived.
Attribution and Data Citation: Data submitted to the Marine-Geo Digital Library can be registered with DOIs® for persistent identification and formal citation. Through collaborations with several earth-science journals, we provide links between publications and data. We promote the collegial use of data through its Terms of Use and provides semi-annual data download reports to data contributors to inform them of downloads/views of their data.
IEDA Services: The Marine-Geo Digital Library is operated as part of the IEDA Data Facility and offers data preservation services including publication of standards compliant metadata and long-term archiving. Additional investigator support services offered include the IEDA Data Management Planning Tool and IEDA Data Compliance Reporting Tool.